Hello out there in internet-land, this is the Kevin and Ursula Eat Cheap wiki where we chronicle the chronicles of our heroes' gastronomical misadventures.
Featured episode
Edit
Episode 15 - "We have conjoined Buns"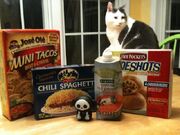 Two rants for the price of one podcast! This week, we walked down the frozen food aisle and found Skyline Chili Spaghetti, Hot Pockets Sideshots Cheeseburgers, and Jose Ole Mini Tacos. Add into that one of Kevin's lunch picks, Pacific Natural Food's Organic Roasted Red Pepper and Tomato Soup, then a decadant finish with Bel Gioioso Tiramisu Marscapone. We paired it all with Rex-Goliath Chardonnay (because, hey, cheap food deserves inexpensive wine), fed the beagle, and reported art thieves.
Excitement abounds (no, not really) in our kitchen, and we eat it so you don't have to.
Display a new featured episode
You know what you should keep in the house?
Edit