Hello out there in internet-land, this is the Kevin and Ursula Eat Cheap wiki where we chronicle the chronicles of our heroes' gastronomical misadventures.
Featured episode
Edit
Episode 25 - It wasn't a fungus, it was Patchouili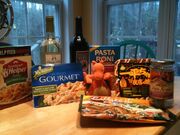 We're back! After a week of good food in New Orleans, we're back to check out the best (and worst) pre-packaged food that we can find.
We'll start this week by opening a MYSTERY BOX from listeners! What wonders are inside? What horrors might we uncover? Do they love us, or hate us?
After that, we have Michelina's Budget Gourmet Rigatoni and Sauce, Pasta Roni Parmagane Cheese, 7 Days Bake It Spanakopita Rolls, Ethnic Gourmet Korma Simmer Sauce, Hamburger Helper Four Cheese Lasagna, and an amazing unknown Asian Noodles with Cabbage and Sauce!
With all of this, we're drinking Menage a Trois Chardonnay (for Ursula) and Purple Cowboy Tenacious Red (for Kevin).
Add into that our live studio beagle, reader mail, a discussion of tubed pastries, and confusing candy, and it's another week with Kevin and Ursula!
Remember we eat it so you don't have to!
Display a new featured episode
You know what we never talk about at all?
Edit
Ad blocker interference detected!
Wikia is a free-to-use site that makes money from advertising. We have a modified experience for viewers using ad blockers

Wikia is not accessible if you've made further modifications. Remove the custom ad blocker rule(s) and the page will load as expected.